Hello!
My name is James, I'm 42 years young and live in sunny Sussex.
I have always been interested in art, and did two art 'O' levels at school but wasn't the best in the class! When I left school, I got a job like any normal 16 year old boy, but within the first two weeks of working life I had a serious accident and was off work for six weeks.
As you can imagine I was very bored and limited with what activities I could do; so I picked up a set of paints, that my Nan had bought me for my sixteenth birthday, and began work on my first painting. 
          MY FIRST PAINTING
              Pegasus
It took a long time to finish that first painting. I was on a steep learning curve as I'd never really taken much interest in oil painting at school. After some trial and error and a lot of patience I completed it. Looking back, it's not one of my greatest pieces of work but it's pretty good for a first attempt, even if I do say so myself!
 I continued with fantasy paintings for several years.
               MERMAID                         
   In 1991 I decided it was time to try my hand at Portraits. So I began painting and found I was quite good at them!

             My First Portrait                                     Harriet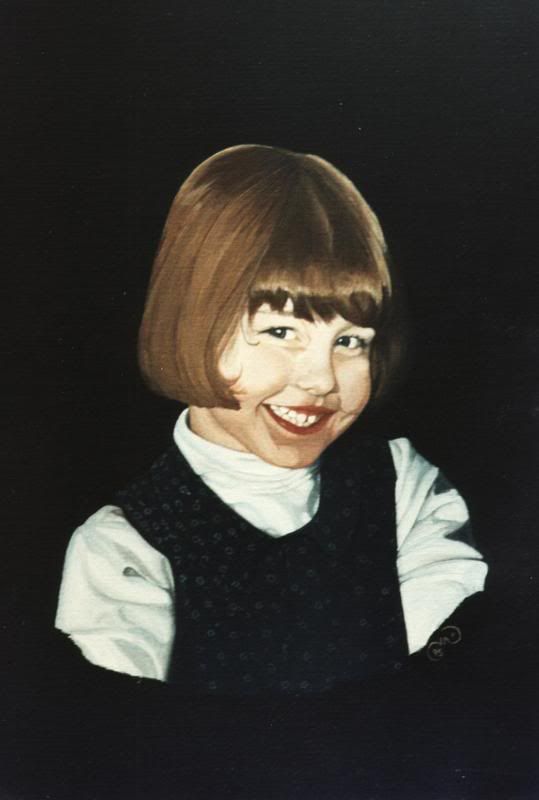 I was soon inundated with requests from friends and family, and through word of mouth, I began to get orders from people i'd never met.                 
 After nine years of painting I decided I needed a change, so I packed up my brushes and turned my hand to drawing portraits instead. My first drawn portrait was of Harriet in 1996.
The portrait requests continued to pour in and my work was being ordered from all over the world, from places such as Europe, America and Australia.
                (The piece below was drawn from three separate photographs.)
                                             A FAMILY PORTRAIT (2000)
 In 2003 I became bored with drawing portraits. I felt creatively limited and simply wasn't getting any enjoyment from my work anymore.
I was still receiving a lot of requests from people for drawings of their loved ones, but I finally decided to close the chapter on 'family style' portraits with one of my Mum.
Since then I have discovered my real passion....WILDLIFE!!
The first wild animal I drew was a Puma, back in 1999. Maybe I should have realised how much enjoyment and satisfaction I get from drawing animals back then; but I got there in the end and I hope you enjoy viewing my drawings on this site as much I enjoyed creating them!
James.
               All images, drawings and photographs on this website are Copyright of ©James Nicholls 2014